My name is Cheryl LeFever and I've been into art ever since I could hold a crayon. Over the years, I worked in many different forms of media. Jewelry designs and airbrush art have become my passion. I love to work with wire designs and my daughter, Denielle, loves the bead work. We make a perfect team in this regard. My airbrush works vary from very small to hoods and vehicles. I'm always up for a challenge and hope you will enjoy our Ayr Wkz and Art Wkz!
Wednesday, December 23, 2009
Happy Holidays to all my friends and relatives. Be happy and enjoy..

P.S.: Happy New Year too!

Cheryl
Posted by

Cheryl
at 3:10 PM
No comments:

Thursday, July 30, 2009
Click on Photos for a better look.
I came across the works of Amber Alexander today and was instantly reminded of my childhood and the stories of Peter Rabbit by Beatrix Potter. Amber likes to work with watercolors and acrylics to create the wonderful playful characters in her paintings and many of her paintings are reminiscent of the illustrations in children's books.
You can see that Amber's love for animals shines through her work and each character she paints has its own personality. She says,
"I love animals and strive to portray their inner lives through art. I feel generally that humans don't give animals the respect they deserve."
Being a cat lover, I can agree with her there. No matter what anyone says, animals do have feelings and they do love. Amber, thanks so much for bringing a smile on my face today.
Permission Obtained; Copyrights belong to the Artist.
You can obtain prints of her original artwork at her shop on Etsy at
http://www.amberalexander.etsy.com
Posted by

Cheryl
at 11:22 AM
No comments:

Wednesday, July 29, 2009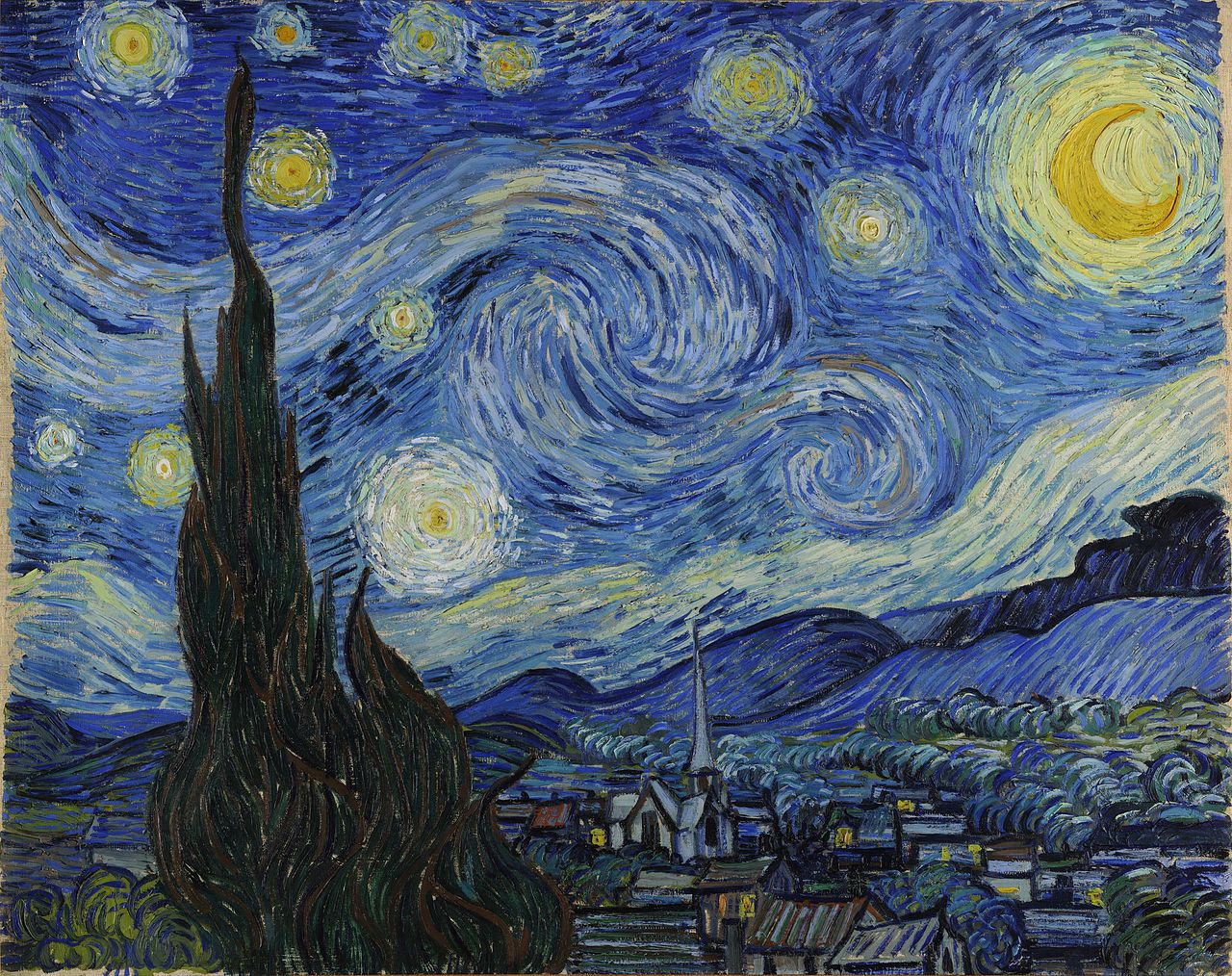 On the first stop of my artistic journey, it would seem appropriate to dedicate this site to my favorite artist and painting. Perhaps the background of my blog would seem a modern day version of Vincent Van Gogh's painting, Starry Night. Take a look and you will see some very similar traits. The tall figure on the left with flowing skies and a sleeping village/city beneath. I don't know the artist that put this web design together, perhaps he/she was influenced by Vincent's work. Anyway, I thank them for their design and I love the look of my blog. It seems very fitting.
I had the opportunity to see some of Vincent's work at the Metropolitan Museum of Art recently, although Starry Night was not one of the exhibits. His use of color and brush strokes are incredible and my love for his work is greatly enhanced.
Don Mclean's song Vincent captures the essence of Vincent VanGogh's paintings and his life.
Starry, starry night:
Paint your palette blue and gray.
Look out on a summer's day
With eyes that know the darkness in my soul.
Shadows on the hills.
Sketch the trees and the daffodils;
Catch the breeze and the winter chills
In colors on the snowy linen land.
Now I understand
What you tried to say to me,
And how you suffered for your sanity
And how you tried to set them free.
They would not listen; they did not know how.
Perhaps they'll listen now.
Starry, starry night:
Flaming flowers that brightly blaze;
Swirling clouds in violet haze
Reflect in Vincent's eyes of china blue.
Colors changing hue:
Morning fields of amber grain,
Weathered faces lined in pain
Are soothed beneath the artist's loving hand.
Now I understand what you tried to say to me,
And how you suffered for your sanity
And how you tried to set them free.
They would not listen; they did not know how.
Perhaps they'll listen now.
For they could not love you
But still, your love was true.
And when no hope was left inside
On that starry, starry night
You took your life as lovers often do.
But I could've told you, Vincent:
This world was never meant for one as beautiful as you.
Starry, starry night:
Portraits hung in empty halls:
Frameless heads on nameless walls
With eyes that watch the world and can't forget;
Like the strangers that you've met:
The ragged men in ragged clothes.
The silver thorn, a bloody rose
Lie crushed and broken on the virgin snow.
Now I think I know
What you tried to say to me,
And how you suffered for your sanity
And how you tried to set them free.
They would not listen; they're not listening still.
Perhaps they never will.
"It is not the language of painters but the language of nature which one should listen to.... The feeling for the things themselves, for reality, is more important than the feeling for pictures."
Vincent VanGogh
"We spend our whole lives in unconscious exercise of the art of expressing our thoughts with the help of words."
Vincent VanGogh


This blog is not a history lesson about artists but merely a meditation of thoughts on works of art both historical and modern. To see more about Vincent VanGogh there is a website dedicated entirely to him at
http://www.vangoghgallery.com
.
Posted by

Cheryl
at 12:59 PM
No comments:

Greetings! This is my very first post to my new blog. As you can see, it is still under construction.
Anyway, my hopes for this blog are to build upon the foundations set here to explore the world of art in all media. I am a jewelry artist, but more than that, I am a creative person who has always been art inclined and creating something with my hands. The works of others always inspires me and I absolutely love it.
So, if you have a creative mind, please become a follower and together we will start our expedition.
If you would like to see my jewelry creations, check out my websites at
http://www.bodyice.etsy.com,
http://www.bodyice.net
or my jewelry blog at
http://www.bodyicejewelry.blogspot.com.
Thanks for stopping by!
Posted by

Cheryl
at 10:08 AM
No comments: